Now Don Cherry asserts on "Hockey Night in Canada" that women reporters should not have access to professional team locker rooms.
Here's the video
via Huffington Post.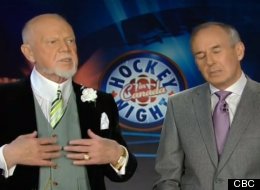 What's really weird is that, thanks to Coach Cherry, the Boston Bruins back in the day (1970s) were the first team to allow me into their locker room as a matter of policy. I was a sports reporter for The New York Times then, covering the NHL. Opening the door was Cherry's decision, urged by the team's pr man par excellence Nate Greenberg. Cherry's memory is really bad.
But I certainly wouldn't forget the first coach and team to give equal access to a female member of the Professional Hockey Writers Association.